So you want to
renovate your kitchen
, but where do you start? And how much do you need to change to get the look and functionality you crave? Below we'll cover our top 6 things to upgrade to give you a fresh, stylish new kitchen, all while avoiding expensive and time-consuming layout changes. First up let's look at benchtops.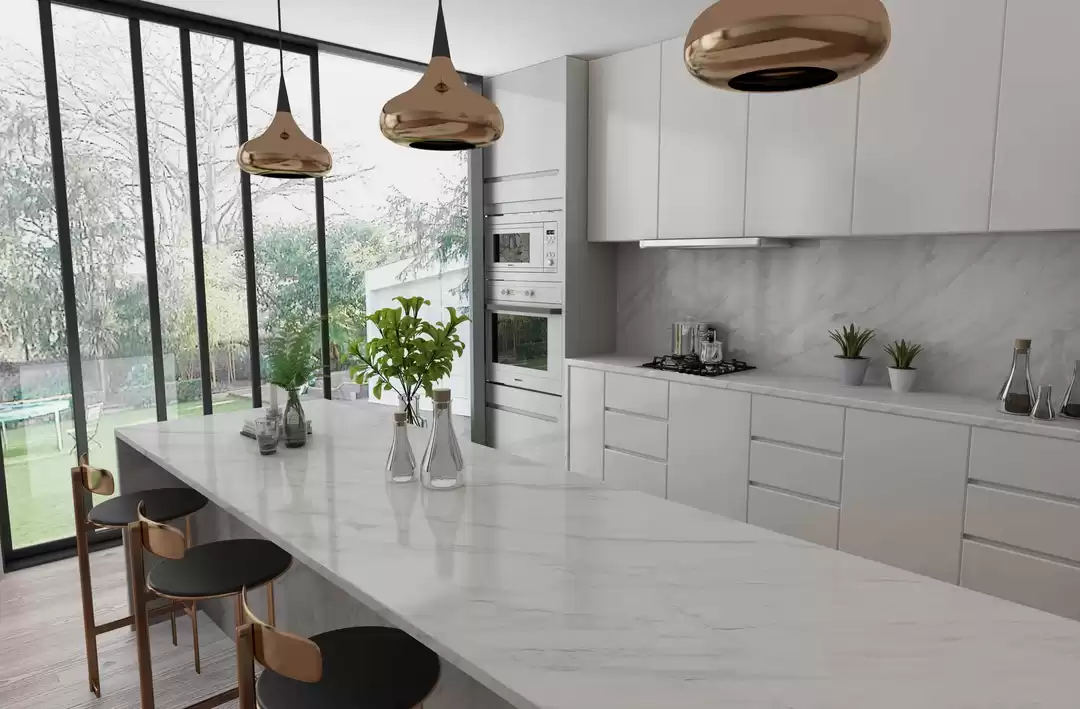 1. Kitchen Benchtops and Overlays
There is no better place to start thinking about your new kitchen than with the kitchen benchtops. Your benchtops are often the defining feature in your kitchen, helping to set the style and tone for all other aesthetic elements. They also play a critically important role in its functionality, so you want something that works well for you. We'll explore two of the most popular benchtop materials below.
Introducing Porcelain Benchtops
While a new concept to many,
porcelain benchtops
are becoming an increasingly popular choice in Australian homes and for good reason. When you think of porcelain, you might think 'brittle and fragile.' However, these terms don't apply to modern porcelain benchtops. In fact, modern porcelain is incredibly durable. The secret to its strength lies in the manufacturing process. Porcelain benchtops are created at very high temperatures. This involves blending a mix of powdered porcelain clay, quartz and sand or silica and then tightly compacting it to create an incredibly robust and hard material. Porcelain is not only perfect for benchtops because of its durability but also because of its non-porous nature. This means that liquids simply wipe off, without staining. It's also UV, heat and thermal shockproof so you don't have to worry about burn marks or fading in sunlight. As a bonus, being made of natural materials, porcelain can also be recycled at the end of its life. But the feature we love most about porcelain? Its incredible versatility. Porcelain benchtops are made in a wide variety of colours, patterns and textures. Choose from Calacatta or Statuario marble, industrial concrete look, asphalt or monochromatic tones. You can always find a porcelain benchtop to match your style and aesthetic.
Stone Benchtops
We may be a touch biased, but we think
engineered stone benchtops
are ideal for almost every kitchen. Unlike natural stone, an engineered stone slab is of consistently high quality and is non-porous. This means it offers a high standard of food hygiene. It's also scorch resistant and is crafted in a range of patterns, styles and even hues. Engineered stone offers that sleek sophisticated look you're after with the added benefits of being incredibly durable and easy to clean. Read more about the advantages of engineered stone
here
.
Benchtop Overlays
Benchtop overlays are an economical and time-saving option. This is because you get a brand new aesthetic without the hassle of removing your existing benchtops. Instead, the stone overlay is simply cut to fit over the existing benchtop. If time is of the essence for you and you want to save dollars, this may be the perfect solution. Overlays will work regardless of the type of material underneath. It doesn't matter whether it be laminate, natural stone, timber, tile or engineered stone. At United Stone, we use our exclusive and elegant QuartzStone for our overlays. Let United Stone
fit your new stone overlay benchtops in one day
.
2. Cabinets
Kitchen cabinets are another feature you want to choose early on in the renovation process as your choice of style will affect many other decisions. Like benchtops, cabinetry design continues to evolve, presenting you with an array of materials and styles. Want to upgrade your cabinetry but not sure what to select? We've compiled some questions to ask yourself below:
How much storage space do you need? This may sound like a no-brainer, however many of us have kitchen cabinets stocked with items we never use – muffin maker anyone? It can be helpful to do a no-holds-barred cleanout before making a call on storage requirements. Or perhaps you have the opposite problem – sometimes we get so used to workarounds – pulling out ten pots to find the orange juicer – that it's good to make time for a reality check and consider upping the storage space.
What look are you after? Kitchen cabinets take up a fair bit of the visual space in your kitchen. Therefore the way they look is important for your kitchen's overall feel. You're most likely to find pared-back, minimalist cabinetry options in flatpack or pre-fabricated products. However, if you have the budget to spend on custom cabinetry you open up a world of choices. Consider beadboard panels for some texture, metallic thermofoil for some bling or glass (it's really handy being able to see what's in your cupboards).
Is your cabinetry structurally strong enough? This question only really comes into play if you're thinking of installing a heavy benchtop, like a stone slab. If you're not sure about your cabinetry's load-bearing capacity, get some advice from the cabinet manufacturer before purchasing.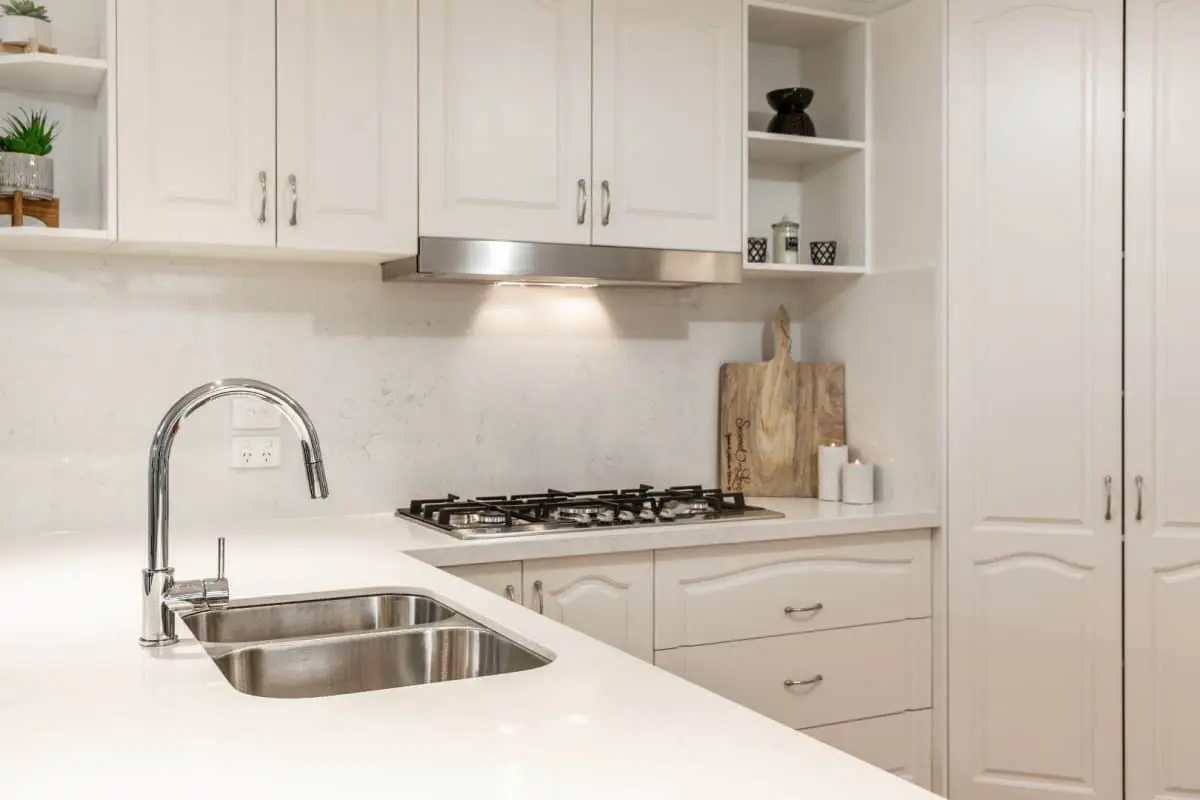 3. Sinks and Mixers
It's an often overlooked feature when renovating your kitchen, however, a good
kitchen sink
is essential for your kitchen's functionality. So it's important to choose a design that suits you. Some questions you may want to ask yourself are:
What are your washing up requirements? If you know you like big cook-ups with large pots and other bulky items, you'll want to invest in a double, deep sink with a good width. However, if you mainly use the sink for rinsing items before sticking them in the dishwasher, you could probably save space and get away with a smaller, shallower sink. Identifying your washing up needs will also help you understand if you need a sink with a drainboard.
Have you considered the material? Stainless steel sinks remain by far the most popular option because they are affordable, durable, hygienic and easy to keep clean. They also won't chip or rust. At United Stone, we are a big fan of stainless steel for these reasons. If you're looking for something a bit different, consider ceramic or even granite composite sinks. Both these materials come with heftier price tags but can offer very stylish aesthetics.
What sink mounting preference works best for you? The two most common options are top-mount or under-mount. Top-mount sinks are easy to install from above, however, their disadvantage is they have a rim adjoining your benchtop which creates unhygienic cleaning issues. Plus this also creates a less aesthetically pleasing look. Under-mount sinks sidestep this issue with the top of the sink sitting flush with your benchtop. This contributes to a seamless, refined aesthetic. At United Stone, we only supply under-mount sinks for these reasons.
The
considerations of your kitchen sink
will obviously influence your tapware decision and vice versa. You have so many options when it comes to tapware design and materials and may choose to make your tapware one of the standout features in your kitchen. Whatever material and shape you finally settle on, we'd recommend selecting a flick mixer style of tap. These taps are incredibly user-friendly and they ensure accessibility for everyone, even those with limited use of their hands.
4. Splashbacks
Once you're set on the material and pattern for your benchtops, you can make the call on splashback design. We find a more restrained pattern and colour palette on the benchtop pairs well with a bolder design for the splashback. However, some of our customers opt to match their benchtops to their splashbacks, creating a seamless, understated feel. Below we've taken a look at three of the most popular splashback materials on the market.
Stone
Just like stone benchtops, stone splashbacks lend class and sophistication to any kitchen. And of course, like stone benchtops, they never need sealing or treating to retain their look. So they tick our boxes for being low maintenance and easy to keep clean. At United Stone, we use our exclusive range of QuartzStone12 designs for splashbacks. QuartzStone is a beautiful material and it has the added advantage of being anti-bacterial and stain-resistant. If you opt for identical benchtops and splashbacks, the stone can simply be wrapped up the walls. We guarantee our stone splashbacks for 15 years.
Find out more
.
Porcelain
The big advantage porcelain has over stone is its scope for an endless array of designs and colours. With engineered stone, the pattern is within the stone itself, whereas any design can simply be printed on a porcelain surface. This paves the way for endless possibilities. Porcelain can mimic almost any other surface type. So if you want to make your splashbacks something of a statement piece, then a
porcelain splashback
is your friend. We've covered the advantages of porcelain as a material earlier, so we'll just repeat that it's an ideal material for splashbacks because of its impermeability and durability.
Tiles
Like porcelain, tiles offer incredible versatility of designs, patterns and textures. If you're after brilliant pops of colour or a stunning mosaic, tiles could be your jam. However, keep in mind tiles are harder to keep clean than single-surface splashbacks like porcelain or stone. If you've ever spent time scrubbing ineffectually at mouldy tile grouting you'll know what we mean! In summary, tiles can look beautiful, however, they're a bit more work and have more potential maintenance issues.
5. Appliances
Are you updating your cabinetry as part of your
kitchen renovations
? If so this is a great opportunity to upgrade any major appliances which are past their used-by date. But how do you decide which appliances will complement your new kitchen? Fridges, ovens, dishwashers and range hoods all come in a wide array of sizes, styles and colours. We, therefore, suggest you decide on your functionality needs first. This can help you narrow down your options to a range that feels less overwhelming. You need your appliances to support the way you cook and to allow for functionality when multiple people use the kitchen at the same time. Do you want to avoid bending every time you use the oven? This likely means you need a wall-mounted oven with a separate rangehood. Do you have space for a single swing door fridge or would a french door fridge work fit better in a tight spot? Once you've decided on the functional aspects of major appliances and the space allowed for them, you can get into the nitty-gritty of colours and designs. If you're going bold with your benchtop or cabinetry choices, you may wish to keep things simple and streamlined with your appliances. Alternatively, if you've opted for a pared-back overall aesthetic, perhaps you wish to splurge for a statement piece like a classy standalone stove.
6. Kitchen Island Bar Stools
We've covered all the big picture elements for your new kitchen so far. Let's look at one final feature that's often ignored – the kitchen bar stool. While it might seem like a small part of your new kitchen, your choice of bar stool can help to tie your kitchen style together. For instance, you may wish the colour of the fabric seat to echo the colour of your new splashbacks. Or perhaps you'd like to match statement copper or gold tapware with the same metallic tone in the barstools' legs. Whatever your design and colour preferences, make sure you decide on functionality and comfort features first. There's a good reason for this which we'll get to in a minute. Questions to ask yourself include: do you want a backrest and armrests? Do your bar stools need to swivel? Do they need to change height to cater for different people? These questions are important because you likely want to encourage people to socialise in the kitchen space. It's great if bar stools look nice, but if no one wants to sit on them, they're not fulfilling their intended purpose. We hope we've helped start you on your journey to revamp the heart of your home. Redesigning your kitchen can feel daunting or overwhelming. However, when you break it down into its separate elements, we find it somehow feels much easier. For advice on all things kitchens,
contact
the friendly team at United Stone today.